Over the years, we've been contacted every week by yachties wanting to know where they stand when it comes to getting a mortgage. We've always said it and we always will – As a Yachtie there are lots of things that are great about your job, but these things can also make stuff like mortgages a bit tricky. To clear up a few of your questions, below, we've put together the CrewFO Mortgage Jargon Buster list: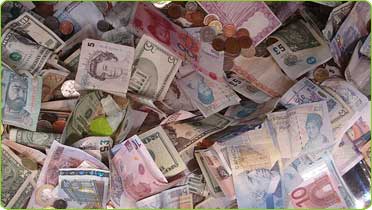 Residential Mortgage
This is the name given to the type of mortgage required on a property where the intention is to live in the property yourself (when not at sea) and not formally let it out to anybody else.
LTI – Loan To Income (ratio)
Mortgage lenders use this as a rough guide to calculate how much you can borrow on a residential mortgage.  Typically, they'll lend about 4.5x your gross annual income. E.g. If you earn £50,000, you can borrow approx. £225,000. However, some lenders are more generous with a bigger deposit.
Buy To Let Mortgage
This is the name given to a type of mortgage required on a property where the intention is to rent it out to somebody else rather than live in it yourself.
Buy To Let Rental Assessment
This is the affordability assessment the mortgage lenders perform to test whether the rental income received/achievable on a property is sufficient to cover the mortgage amount required.
Foreign Currency Mortgage
This is a special type of mortgage you need when you're paid in one currency (E.g. euros or dollars) and borrow money in another (E.g. sterling). Sadly, they are not provided by many mortgage lenders, which can make securing a mortgage as a seafarer more tricky.
Capital and Interest Payment
Your monthly payment covers the interest and also reduces the total balance outstanding.
Interest-Only Payment
Your monthly payment only covers the interest so the balances do not reduce.
Fixed Rate Mortgage
A mortgage where the interest rate stays the same for a specific period (e.g. two or five years) even if the base rate or lender variable rate changes in the meantime.
Tracker Rate Mortgage
The mortgage interest rate is set at a fixed percentage above the Bank of England (BoE) base rate. The interest rate payable will rise and fall in line with changes to the BoE base rate.
Gifted Deposit
A gifted deposit is when someone else, perhaps a family member, provides the funds for some of, or all, of your mortgage deposit.
AIP – Agreement In Principle
An Agreement in Principle, also known as a mortgage in principle or decision in principle, gives you an understanding of how much you may be able to borrow towards the purchase or remortgage of a property. It's a document you can use with an estate agent, or those selling a property, to show that you may be in a financial position to purchase it.
LTV – Loan To Value
This is the percentage figure the mortgage represents when compared to the property value/price. E.g. For a property being purchased at £300,000 with a £225,000 mortgage the LTV would be 75% (225,000/300,000 x 100)
Survey
A detailed inspection of a property is carried out by a qualified surveyor to make sure a property is in good order before you buy it. Not to be confused with a 'valuation' which is often done by the lender for the sole purpose of the mortgage they are providing.
Conveyancing
The legal process of buying and selling property. This can be done by a solicitor or specialist-licensed conveyancer.
Mortgage Offer
This is your guaranteed offer. Once your mortgage is approved you'll get a formal offer setting out the terms and conditions from the lender. This represents the lenders formal intention to lend the funds required and starts the final part of the process that the solicitor undertakes.
ERC – Early Repayment Charge
Some mortgages, such as fixed-rate mortgages, charge a fee if you pay back the loan early. This can vary and will be detailed in the letter of approval or terms and conditions.
Stamp Duty
This is a tax you pay when you buy a property. As the price you pay for a new property increases, so do the rates of stamp duty. There may also be additional stamp duty charges if you own more than one property at a time.
For more information on CrewFO financial services, contact hello@crewfo.com.
Found the CrewFo Mortgage jargon buster list helpful? To keep up to date with CrewFO Mortgage news, click here.